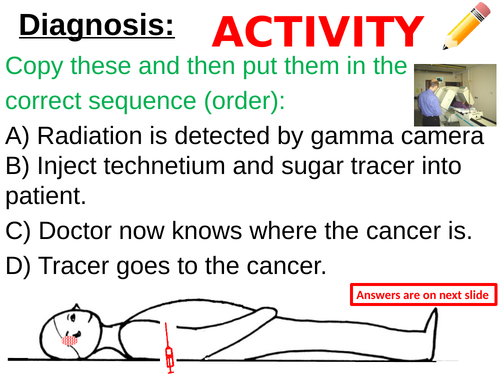 A complete and ready to deliver high quality GCSE lesson.
This is a complete lesson from start to end, you do not need to spend many hours carefully planning, creating and resourcing this lesson – I have already spent those hours preparing this lesson for you.
There is nothing to do – if you don't have time to have a quick look through it in advance the PPT will guide you smoothly through the whole lesson !
Lesson objectives:
* Understand key terms e.g. sterilisation, diagnosis, treatment, tracer, gamma camera, radiotherapy etc.
* Explain how and why radiation is used in sterilisation, and medical diagnosis, and treatment.
* Be able to explain radiotherapy in detail.
This carefully crafted lesson is over 40 slides long, and is full of learning activities as below:
* Notes to help the teacher.
* Starter - simple task where students self-assess themselves against each objective.
* Matching task – answers are provided.
* Paired work activities – answers are provided.
* Scientific literacy activity
* Homework, you choose whether your learners need to do it (if a worksheet answers are provided).
* Questions – all answers are provided.
* Theory slides (carefully sculpted, interspaced with learning activities, not 'death by powerpoint').
* Video clip link (carefully selected – this alone can save you 10 to 20 minutes of searching).
* Gap fill activity - all answers are provided.
* Sequencing activity.
* Up and about activity.
* Student self-assessment versus objectives activity – so learners can judge for themselves how much they have learnt.
As teachers we all work ridiculously long hours each week. Give yourself a break, spend some life with your wife / husband / children / friends / family by purchasing more lessons created by "Barclayfox" once they appear on TES. Please note: when searching for resources please type barclayfox into the search box/engine and it will show you all our resources.
If you like this lesson please leave a review.
This lesson is part of a series, whilst they all work very well as standalone individual lessons you may wish to buy others from the series:
0. Bundle – contains all lessons (if available not all series are bundled)
1. History of the atom, discovery of the nucleus, Thompson and Rutherford.
2. Isotopes and Mass number and Atomic number.
3. Alpha, Beta and Gamma – ionising radiation.
4. Changes in the nucleus – decay equations
5. Half life, radioactivity and decay.
6. Activity and half life practicals
7. Dangers and precautions
8. Nuclear radiation in medicine (uses in medicine)
9. Nuclear fission and chain reactions (nuclear power).
10. Electricity from nuclear power.
11-14 Please see list in this powerpoint
Link to the bundle - 50% discount!
https://www.tes.com/teaching-resource/aqa-gcse-new-spec-atomic-structure-mega-pack-bundle-11795491
Thank you, and happy teaching !
Yours,
Barclayfox.
Tes paid licenceHow can I reuse this?
Something went wrong, please try again later.
Great ready to use resource that can be easily adapted for different groups.
Report this resourceto let us know if it violates our terms and conditions.
Our customer service team will review your report and will be in touch.