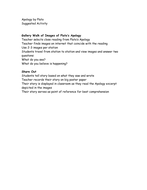 NYS ELA Grade 9-Gallery Walk Activity
This is a gallery walk involving visuals representing the chunk of reading students will do from Plato's Apology. It is a fun and visual way to introduce the material. Students create a story from the visuals that will mirror the text. The students may use visuals and their story to make predictions and better comprehend Plato's Apology. #nyws
About this resource
Info
Created: Jul 28, 2015
Updated: Aug 19, 2015
Categories & Grades
Other resources by this author
This is a gallery walk involving visuals representing the chunk of reading students will do from Plato's Apology. It is a fun and visual way to int...
ndelossantos
Reading strategies that may be used to aid students in interacting with text, annotating text, and developing the main idea. #nyws
ndelossantos
Popular paid resources
This is a hugely popular revision tool for the Y6 Reading SATS test! Get ready for the 2018 KS2 reading assessments with this SATS Question Generat...
KS2History
This lesson has no powerpoint. The lesson has a writing frame, teacher guide, copies of the poem and a group work task.
lydz1989
Fishbone's Song is a complete 53 page novel study guide based on the popular novel by Gary Paulsen. The guide is presented chapter-by-chapter and i...
reednovelstudies
Updated resources
I am pleased to add a series of plenary games that have been used to support and motivate more challenging and demotivated students. The games have...
gonchhollo
I am pleased to add a series of weekly homework tasks that will be enough for at least two whole terms. The reading tasks focus on extracts from va...
gonchhollo
A lesson heavily using imagery to promote the learning of quotes and engagement with the text. Great as an introduction to the poem for the Power a...
lizziedc92