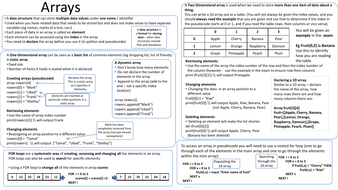 One and Two Dimensional Arrays (1D & 2D Arrays) Knowledge Organiser GCSE OCR Computer Science J276
My current year 11 students have been extremely positive about the Knowledge Organisers that I have created for their Computer Science revision (and students in previous years on the legacy spec).
This resource covers 1D and 2D arrays, from the pseudocode for declaring them, terminology and python examples of using loops through arrays to search or amend data. This can be used with all abilities as it is good for revising the main points needed to be able to answer most exam questions about this topic. I have been using them alongside example exam questions so that the students can see that the information is in the knowledge organiser but they just need to apply it to the specific question.
This covers the new J276 OCR specification for GCSE Computer Science. You can either buy this knowledge organiser on its own - or all eight are available for a slightly lower overall cost.
Please do leave feedback if possible, I hope you find it useful.
Read more