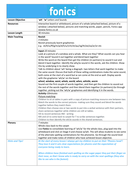 Phonics Lesson 'wh/w' Letters and Sounds Phase 5 Year 1 with resources
Phonics lesson with a focus on wh/w sounds, looking at both spelling combinations. Class activity included with resources.

For more phonics resources, videos and phonics online play. Like phonicsplay but better!

www.readwithfonics.com

Don't forget to rate the resource!
Read more