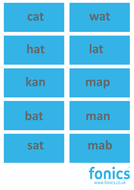 Phonics resource real words and fake words phonics screening practise 'a'
Phonics resource, real vs fake words. Using phonic decoding skills with the letter 'a' ( e.g. cat, mat , hat)

For more phonics resources, videos and phonics online play. Like phonicsplay but better!

www.readwithfonics.com

Don't forget to rate the resource!
Read more