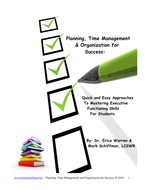 Planning, Time Management and Organization for Success
This download offers 115 pages as a PDF document! Planning, Time Management and Organization for Success is my largest publication. It offers quick and easy approaches/handouts to mastering executive functioning skills for students. The areas of focus are writing, reading, memory strategies, test prep, planning for long term assignments, behavior modification materials, calendars, developing active learning and more. Materials range from Elementary through high school and college. Download the free preview to see listing of all the resources.

Many students struggle with time management, organization and planning. Capable and intelligent learners can ruin their grades by: misplacing materials,forgetting to hand in assignments,leaving homework to the last minute, underestimating the time it will take to finish a task, failing to write down homework, leaving needed materials at home or school, neglecting to prepare for tests, failing to break down long-term assignments into reasonable goals, failing to prepare for midterms or finals, forgetting details, missing important notes or directions, losing stamina, misplacing materials, and rushing through homework. This download offer strategies and concrete manipulatives that help guide and support students so they can organize, manage time and plan (executive functioning skills) in all their academic areas. Executive functioning is a cognitive weakness that has recently been recognized in schools. However, many schools are still learning how to accommodate this population of learners. More and more students are described with this label and this download strives to offer these students strategies for success.
Read more