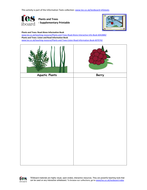 Plants and Trees - Mock Website
A TESiboard non-fiction mock website, to support reading for a purpose, about plants and trees. This is an alternative way of presenting subject information. It allows pupils to search for information safely, in a carefully-written and closed environment. Pupils use the links to navigate around and find key items of information or enter their own search criteria. The TESiboard Mock Website collection covers Mammals and Birds, Minibeasts, Amphibians and Reptiles, Space, Vehicles, Plants and Trees, and Toys.

Note: This is a Flash activity and may not work on all devices and browsers. We recommend IE.
Read more