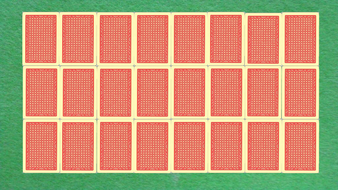 Playing Cards Fully Interactive Memory Game in Powerpoint
This is a fully interactive Powerpoint slide containing 24 playing cards that, when clicked spin around to reveal the other side of the card. There are two sets of 12 cards that can be used as a group task or individually to assist with memory or simply to pass the time. The background has been designed to resemble a card table and looks quite stunning and very attention grabbing.

It can be used in Learning Support, as a starter or Plenary, Time Out or for wherever you choose within your teaching.

The Powerpoint contains a singular slide containing a total of 48 images that have been joined together to resemble a table full of cards. They are fully animated and spin round when clicked. This works excellently on an interactive smartboard.

This has been built in Powerpoint 2010 (PC) and has been tested on Powerpoint for Mac. It has not been tested on Keynote.

By adding a School licence it allows you to share this resource with colleagues at your school. Without it, this resource is licensed for use only by you. Read licence details
Other resources by this author
I wrote these worksheets for a Year 11 Level Three course in Web Design using Dreamweaver CS and took it down to year 9, which worked just as well....
nerdoftheday
This 19 page document has been used with student learning in mind. It contains every aspect that the learners need to pass the two exams. It contai...
nerdoftheday
I devised this tracker a long time ago to track the grades and progress of our BTEC training programme and the several units that encompass the ove...
nerdoftheday
Popular paid resources
Easter : Reward Jars-Behaviour Monitoring This PowerPoint Contains five Easter reward jars to use with your pupils to positively reinforce good beh...
TeachElite
swap words in and out as needed for a varitey of projects. The smiles are ideal for pupils to express how proud they are of there product, particua...
emma_louisebarton
6 GREAT SETS OF RESOURCES TO SAVE YOU MONEY INCLUDING VOICE LEVELS DISPLAY CLASSROOM STORAGE LABELS QUICK CHALLENGES WORD SEARCHES AND LETTERING
hayleyhill
New resources
Take a Mindful Minute - This is a great activity for children and adults. When things get a bit stressful it is a lovely way to have a break from a...
Elsasupport
A handy, easy to use checklist for when applying for an EHCP needs assessment. The checklist allows you to map out what needs to be done as accompa...
emilylouisamiller
This Education Plan is an adaptation of an educational plan currently in use in ,any schools. It is suitable for planning specific activities for a...
mollyo
Updated resources
This resource can be used from early years to secondary school age. It would make a good first session on feelings. Children set a colour key and t...
Elsasupport
A lesson on Dividing decimals by whole numbers using short division. Dyslexic friendly font, powerpoint contains answers and a video for visual lea...
Charmartin19
Numeration 1 - 20: Activities to develop understanding of numbers from 1 to 20 This is activity to develop an understanding of the numbers from 1 t...
pearp