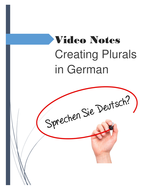 Plural Nouns Patterns in German Video Notes Page
Creating plural nouns in German can be confusing. I made this video guide to go along with a Youtube video covering the topic very well.

You can either assign the this video guide as homework, use it as a sub plan or use it as an in class activity. When I've used this in class, I've had the students watch the video once without the handout and then had them fill out the guide the 2nd viewing.

Viel Spass!
Read more