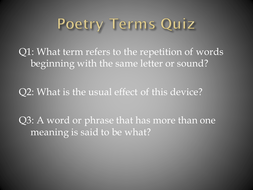 Poetic Terms Quiz
The PowerPoint ia a quiz for several literary terms used when analyzing poetry. the PowerPoint includes the quiz questions and the last slides contain the answers
This resource is designed for US teachers. View UK version .
Other resources by this author
I've adapted this from a powerpoint using freeze frames from &'The Simpson&';s' version of Macbeth which aired in September (this was kindly provid...
ceesaw
Lesson with Powerpoint looking at Shakespeare's insults. To take the fear out of the language, students practise delivering the insults to one anot...
ceesaw
This poetry resource examines Salome by Carol Ann Duffy. It contains a worksheet activity, a psychiatric evaluation of Salome useful in exploring t...
ceesaw
Popular paid resources
This detailed, differentiated and fully resourced lesson explores the themes of fate and free will in Act 1 Scene 5 from Romeo and Juliet, Shakespe...
Lead_Practitioner
I am pleased to add several placemats with definitions for a series of specific techniques, including general language techniques, narrative techni...
gonchhollo
I am pleased to add a series of KS4 reading and writing intervention mini lessons based on all of the reading and writing skills for AQA Paper 1 an...
gonchhollo
Updated resources
Based on: -Snow in Paper 2 [Smart Notebook] Alex Cold in Paper 1 [Smart Notebook] Also has Lord of the Flies PPT Notebook slides are designed to be...
garetboy
5 Animal Themed Reading Comprehensions. Each comprehension is accompanied with Questions. Students may use the template provided or cut and paste t...
PollyPuddleduck
Grab this March Reading Comprehension pack today! Resource Title March Reading Comprehensions Age/Year Group Key Stage 1 Total Pages in download ❤ ...
PollyPuddleduck