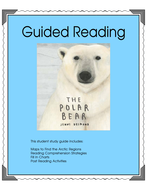 Polar Bear - Guided Reading
This is one of the most comprehensive, engaging, and interesting
"informative" books about polar bears. A little girl who loves to read reads
a book about polar bears. My student-oriented packet includes the best of
comprehension reading strategies. There are post reading choices for
students to synthesize their knowledge.
Read more