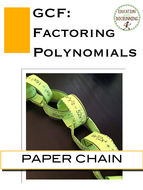 Polynomials: Factoring Polynomials Practice and Review Activity
Factoring Polynomials: Practice and Review Activity is a great way to practice and review students' understanding of factoring polynomials. Students solve one link which leads to the answer on the next link. My students LOVE this activity and add to their chains with multiple topics throughout the year.


This purchase is for one teacher only. This resource is not to be shared with colleagues or used by an entire grade level, school, or district without purchasing the proper number of licenses. If you are interested in a site license, please contact me for a quote at docrunning@kulikuli.net. This resource may not be uploaded to the internet in any form, including classroom/personal websites or network drives.
Read more