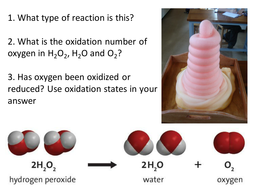 REDOX lesson 2 - Disproportionation reactions - AS Chemistry
This is a lesson on using oxidation numbers to determine if a reaction is a redox reaction, disproportionation reaction or symproportionation reaction (opposite of disproportionation). Symproportionation is included to develop understanding and is not required by AS Chemistry specifications. The starter is the engaging visual elephant toothpaste demo. Answers on slide 17 are colour coded and animated. I have another lesson on TES where students calculate oxidation numbers. Please rate this resource and leave feedback.
Read more
Report a problem
Creative Commons "Sharealike"