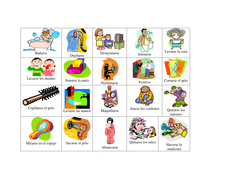 Reflexives
About this resource
Info
Created: May 27, 2008
Updated: Aug 19, 2015
This resource is designed for US teachers. View UK version .
Other resources by this author
HOW TO ASK QUESTIONS IN SPANISH. QUE/CUANDO/DONDE…AND OTHER FORMS.
noeliamayorgas
Popular paid resources
This resource contains six differentiated board games on the topic of telling the time in Spanish. The games are: o'clock times, half hour interval...
CrookedSteeple
This resource contains two fact files with a lot of statistics and figures about racist attitudes and legislation against racism in Spain. Each fil...
corcuera
This 12-page resource contains three pages full of facts, statistics and figures about immigration in Spain and other Hispanic countries. Each of t...
corcuera
New resources
Get your pupils to experience the Spanish festive season in a fifty-minute lesson! A sequence of activities and games. You will need to print off a...
boatie
This is a booklet I have created for my Year 13 Spanish students in order to introduce the first part of the first act of the book. In this booklet...
Albichuelita
Updated resources
A series of lessons to recap grammar with Yr9/Yr10 starting their GCSE course; to consolidate their knowledge and understanding of Spanish grammar,...
sapetrie
KS3 Spanish what time is it? El título: ¿ Qué hora es ? Los objetivos: Some will be able to use numbers and key time words to say the time Most wil...
MagBB
It includes covers Family, Transports, City, Healthy lifestyle and Directions. It includes questions of multiple choice, questions in English and i...
sykora