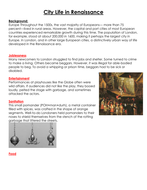 Renaissance - City life - worksheet
City Life in Renaissance

Background:
Europe Throughout the 1500s, the vast majority of Europeans— more than 75 percent—lived in rural areas. However, the capital and port cities of most European countries experienced remarkable growth during this time. The population of London, for example, stood at about 200,000 in 1600, making it perhaps the largest city in Europe. In London, and in other large European cities, a distinctively urban way of life developed in the Renaissance era.
Read more