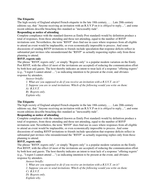 RSVP - What does it mean?
This resource is designed for US teachers. View UK version .
Categories & Grades
Other resources by this author
Gives the entire procedure how the lesson to be taught.
slavtchii
Popular paid resources
You are purchasing a 20 page booklet with a range of short practice questions. There are examples of every single question on both papers, with fou...
laurajholder
10 fully resourced lessons to prepare students for the AQA English Language Paper 2, Section A exam: 'Writer's Viewpoints and Perspectives'. This r...
RojoResources
Children loved making pizzas at our Italian pizza class. Resources have been exported from an Activ-primary flip-chart. (Which also includes Italia...
jreadshaw
Updated resources
In this lesson we explore Romeo's use of language as he meets Juliet for the first time and how she responds to his use of religious imagery. Using...
Lead_Practitioner
Ideal for both KS3 and KS4 students, this fully resourced and differentiated lessons looks at the way Dickens presents Scrooge as an outsider and s...
Lead_Practitioner