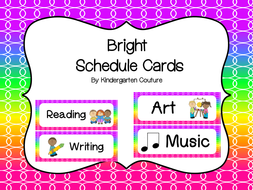 Schedule Cards -Bright
These Bright Schedule Cards go with my other Bright Classroom Items. Cards include the following:
art, music, gym, P.E. technology, computer, arrival, dismissal, carpet time, morning meeting, library, science, social studies, math, reading, writing, calendar, recess, snack, lunch, Daily 5, centers, clean up, birthday, accelerated reader, assembly, and special activity. There is also an editable blank page to write on or type on.
Read more