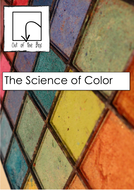 Science and Art. The Science of Color
This resource provides student friendly facts relating to the science of color. Also included is an associated worksheet which challenges students to find information in the factsheets. The worksheet also provides students with an opportunity to develop their knowledge further through independent or teacher led investigation. In addition, this resource encourages engagement by linking to current events.

Please don't forget to leave feedback.
Read more