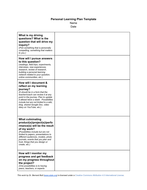 Self-Directed Learning Template
Give someone a fish and they will have a nice meal. Teach someone to fish and they have a lifetime of meals. That might be a cliche but it is a powerful and critical lesson for modern education. In the end, our ultimate goal is to equip students with the competence and confidence to learn independently. This is the vision behind student-centered learning, project-based learning and self-directed learning. With this goal in mind, this is a simple 8-question template that you can use to guide your students through planning and designing self-directed learning projects.
Read more
Report a problem
Creative Commons "Sharealike"