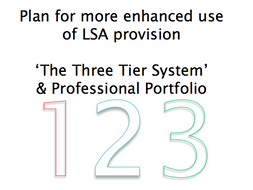 SEN Provision Monitoring System
This is a three tiered system I introduced when leading a learning support team. It is a way of holding TAs/LSAs to account for the progress they make with their interventions with individuals and groups.

Tier 1 sets out the context of the class/group the TA will be working with
Tier 2 is a collaborative document the TA completes in consultation with the class teacher to pinpoint the support
Tier 3 is an outcomes document recording both qualitative and quantitive impact over time

These documents were used as part of QA for Learning Support and to inform performance management and enable TAs to build their own professional portfolios.

The system was praised by both OFSTED and MAT.
About this resource
Info
Created: Apr 19, 2016
Updated: Feb 22, 2018
By adding a School licence it allows you to share this resource with colleagues at your school. Without it, this resource is licensed for use only by you. Read licence details