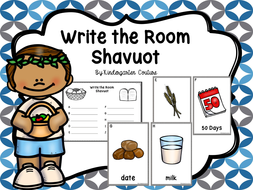 Shavuot Write The Room
Are you learning about Shavuot? This write the room will be a perfect addition to your study. In this write the room pack you will receive 10 Shavuot pictures for your write the room center. They could also be used for vocabulary. There is a recording sheet and two sentence writing pages. Students will love having the chance to walk around the room searching for Shavuot pictures. (Pictures included are: Torah, wheat, cheese, cupcake, grapes, Mt. Sinai, olives, date, milk, and 50 Days.)
For this center all you need to do is copy the cards, laminate and stick them up around the room. Students then take a clipboard, and recording sheet and write the words they find next to the picture on the recording sheet.
Read more
About this resource
Info
Created: Apr 23, 2017
Updated: Feb 22, 2018