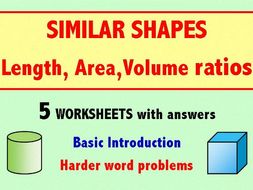 SIMILAR SHAPES : Length, Area, Volume Ratios
These 5 worksheets help to explain the effects of enlargement on the area and volume of a shape by looking at the length, area and volume ratios. This is an important topic that is often found difficult by many students.

There are three basic worksheets introducing the idea then two pages of harder word problems for extension work. The first worksheet lets students calculate the surface area and volume of simple 1cm and 2cm cubes so they can create the ratios themselves and see how the area and volume ratios derive from the length ratio. Sheets 2 and 3 require students to use the relationships between the ratios to calculate missing areas and volumes.

The two word problem sheets are similar to GCSE 9-1 exam questions.

For more resources like this please visit the SKILLSHEETS Shop
About this resource
Info
Created: Mar 31, 2017
Updated: Feb 22, 2018
By adding a School licence it allows you to share this resource with colleagues at your school. Without it, this resource is licensed for use only by you. Read licence details
Other resources by this author
Practice factoring quadratic expressions. Nine pages of questions where the answers have to be filled in. Includes examples where the coefficient o...
Skillsheets
8 worksheets that show what is meant by the slope of a line and how to work it out using a triangle. Draw and use the equations of straight lines i...
Skillsheets
Over 20 worksheets of simple activities involving money that are illustrated and designed for use mainly with adults and teenagers. Choose the righ...
Skillsheets
Popular paid resources
A self-contained game to be played in pairs. Use to revise reading coordinates on a grid. Best played once coordinates have already been introduced...
Miss-Becky
There are about 17 (practical and fun) lesson activities, tasks or worksheets to cover the following 2014 objectives: Recognise angles as a propert...
jreadshaw
Differentiated worksheets for children to complete. Each worksheet contains photographs of shapes that the children must construct then answer ques...
juliannebritton
New resources
GCSE Mathematics 9-1 Higher tier. Includes SMART Notebook lesson and two accompanying worksheets with answers. Lesson outcomes covered: 1. To be ab...
Bluesky62
Inspired by aap03102 and his excellent relays https://www.tes.com/teaching-resource/maths-relay-races-problem-solving-puzzles-6064073 I created thi...
whistleandsums
Here is another set of transformation pictures that will create a lovely Christmas scene. There is a reindeer and Christmas tree which only require...
dave789
Updated resources
In this lesson, learners will be able to tell the time to the hour and half past the hour and draw the hands on a clock face to show these times. L...
skoolmaths
In this lesson, learners will be able to : Use vocabulary related to time. Sequence familiar events in time. Compare duration of events. Read the t...
skoolmaths
Simple Bearings and Scale drawings activity based on Fortnite Battle Royale. Suitable for KS3. My Year 8 group are obsessed with this game, so made...
worthing wire