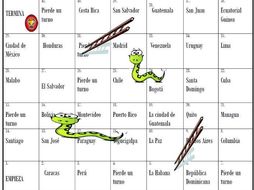 Spanish Game: Snakes and Ladder with Spanish Countries and Capitals
Students practice countries and capitals with this snakes and ladder game. They roll the die to see how many places to move. If they land on a country, they must say the capital. If they land on the capital, they must say the country for the capital. The first one to get to the end by climbing a ladder or avoiding sliding down the snake wins the game.

Just laminate and it's ready to be played.
Read more