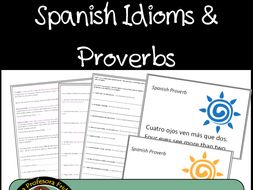 Spanish Idioms, Sayings, Dichos
Idioms are so much fun to learn! Not only are they fun, but they are very USEFUL to know and can teach us a lot about other CULTURES.

I've created this packet of activities to help teach Spanish Idioms and also to encourage students to THINK CRITICALLY about their own language. I hope you find some of the lessons included in this packet useful. Thank you so much for your purchase!
Read more