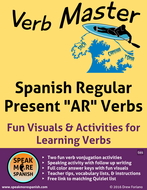 Spanish Verb Master Worksheets * Regular Present "AR" Verbs * Verbos del Presente Regular en Español
This is a fun way to help your students visualize pronouns and verb endings with the regular preterite tense endings in Spanish. Our Verb Building let's students see the patterns and can be used as a race game, pair exercise, or substitute lesson. The follow up speaking and writing activity is a fun way to get students up, moving, and using their spoken Spanish.

Una actividad divertida para practicar los verbos regulares del pretérito en español. Se conjuga los verbos y se los escribe en español al lado de su traducción en inglés. Incluye dos versiones y una actividad de comunicación oral que también practica las formas de los verbos en el presente regular.

These activities focus on this list of twenty Spanish regular present tense verbs with an AR ending and includes a FREE link to a Quizlet list for additional review:

bailar
buscar
caminar
comprar
contestar
dibujar
escuchar
terminar
viajar
trabajar
regresar
estudiar
hablar
necesitar
esperar
explicar
sacar
tocar
tomar
llevar

Includes:

* Version A of our Verb Building with fun graphics. Comes with English Translations and Conjugated Spanish Verbs. Students find the match and write the verbs to learn the patterns. Graphics help visualize the singular and plural pronouns. Includes short answer speaking/writing question in the preterite and a grammar box to help with conjugations. (1 page)

* Version B (advanced) of our Verb Building with fun graphics. Comes with English Translations and Spanish Verbs in the infinitive. Students find the match and write the correct conjugation of the verb next to the English translation. Note that the same set of twenty verbs is used but the subjects and placements are changed to allow for more practice. Includes a grammar box to help with conjugations. (1 page)

* A Follow Up Speaking and Writing Activity with preterite verbs. Students interview other classmates using five questions and follow-ups. Provides extensive speaking practice since students must ask multiple classmates the questions until they find someone who says yes. Students then write a short paragraph from their answers and share with class. Includes a short role-play to model the activity and question words on the sheet. (1 page)

* Full color slide for class Instructions and color vocabulary slides to introduce verbs and the activities. (3 PDF Slides)

* Full Color Answer Keys to show after completing the two verb conjugation sheets. (2 PDF slides)

*Teacher Instructions and Tips for getting the most out of the activities. (2 pages)

* A FREE link to a matching Quizlet list. Play Quizlet live and other games.

**We regularly place new free products in our store. Follow us for updates.
Read more
About this resource
Info
Created: Nov 22, 2016
Updated: Feb 22, 2018