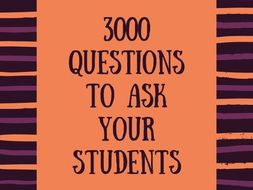 Speaking | 3000 Questions to ask your students (vol. 3)
This document of 3,000 Speaking questions is for teachers and ESL students who want to develop their speaking skills.

It contains 3 000 questions (150 topics). The themes can be found in contents.

The content is based on the bank of the questions from http://www.esldiscussions.com/.
Read more