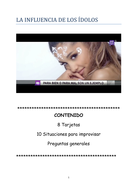 Speaking cards, general questions and improvised situations La influencia de los ídolos (AQA)
This is the forth installment of cards, general questions and improvised situations that I have created (others also available in this site). Some of the context of the cards are: singers who sing using swear words, beauty pageants in Mexico, models who break mold, footballers who appear in ads, etc.
The improvised situations practise expressing the opposite opinion and reasoning it.

I enclose a brief preview to give you an idea of the material.

If you found the resource useful (or not), I would be most grateful for a comment.
Again, I hope that £2 is a reasonable price for everybody: it cuts your work and it rewards mine.
I will be producing cards for Unit 5 shortly, so watch this space.

Any comments here or at bgp@stbrn.ac.uk gratefully received.

Enjoy!
Read more