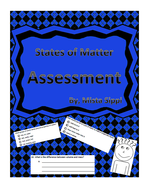 States of Matter Quiz
This ten question quiz has a variety of multiple choice, fill in the blank and short answer. The quiz covers questions about solids, liquids, gases, mass, volume, five sense, matter and more.

Check out my States of Matter Test Assessment and my Introduction to States of Matter Exit Ticket.
Read more