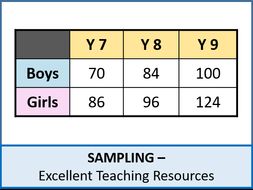 Statistics: Sampling (mainly Stratified Sampling) perfect for GCSE and Stats GCSE (+ resources)
This is a whole lesson looking at sampling as a whole, with the main bulk of the lesson looking at stratified sampling. An important area for anyone doing Statistics, whether at GCSE or at A-Level and has lots of cross-curricular links. Updated, 15 slides + resources.

It comes with lots of keys words, learning objectives, starter, superb teaching slides and a plenary... it comes with a worksheet that I got from TES, but I have added ANSWERS! and some exam questions on stratified sampling, which I also had.

NOTE: Feel free to browse my shop for more free and premium resources! As always please RATE and FEEDBACK (comments good or bad) thank you!
Read more