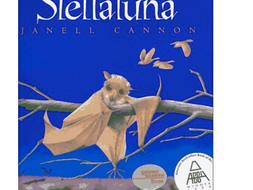 Stellaluna Re-Write Writing Activity & Vocabulary Dictionary
This lesson includes a lesson plan for a writing activity for use after reading Stellaluna by Janell Cannon. Students will create a new version of Stellaluna by changing the characters Stellaluna interacts with in the text.Students will rewrite Stellaluna as if Stellaluna went to live with a different group of animals. Students will think about how the story would be different and the different skills Stellaluna would have to learn to live with a new group of animals. Students will get to choose the animal in their story.

This also includes a template and a list of vocabulary words from Stellaluna. Students will make a personal dictionary, using some of the fabulous vocabulary from this book! It is suggested that those pages be printed 2 pages/sheet and front & back, so that the book is a double-sided, half-sheet sized foldable.
Read more