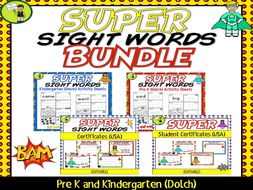 TES PICKS
Super Sight Words Bundle (Dolch) - PreK-Kindergarten
This Super Sight Words Bundle features the 52 Kindergarten Dolch Sight Words AND 40 PreK (Primer and Pre-Primer) Dolch Sight Words in engaging superhero themed printables to help your students gain sight word fluency! Use this as part of your Word Work Daily 5 activities or as an addition to your writing program. A great bonus – NO PREP! Just PRINT and GO!

It also features editable Pre-K and Kindergarden Sight Word Certificates in a Superhero theme. There are 17 certificates in a variety of styles. These are editable so you can type directly into them.

Lastly, this bundle features 17 Superhero Themed Classroom Celebration Certificates that are also EDITABLE!

These cover a range of curriculum areas, and once again, you can type directly into them.

Once purchased, if you need any headings changed, you can email me directly at topteachingtasks@gmail.com and I will do this for you.

Words included in this pack are: a, and, away, big, blue, can, come, down, find, for, funny, go, help, here, I, in, is, it, jump, little, look, make, me, my, not, one, play, red, run, said, see, the, three, to, two, up, we, where, yellow, you AND all, am, are, at, ate, be, black, brown, but, came, did, do, eat, four, get, good, have, he, into, like, must, new, no, now, on, our, out, please, pretty, ran, ride, saw, say, she, so, soon, that, there, they, this, too, under, want, was, well, went, what, white, who, will, with, yes.

Copyright ©Top Teaching Tasks. All rights reserved by author. This product is to be used by the original downloader only. Copying for more than one teacher, classroom, department, school, or school system is prohibited. This product may not be distributed or displayed digitally for public view. Failure to comply is a copyright infringement and a violation of the Digital Millennium Copyright Act (DMCA). Clipart and elements found in this PDF are copyrighted and cannot be extracted and used outside of this file without permission or license. Intended for classroom and personal use ONLY.
Read more
About this resource
Info
Created: Jun 19, 2017
Updated: Feb 22, 2018