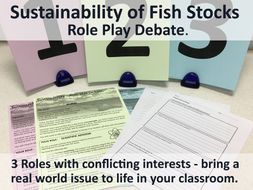 TES PICKS
Sustainability Role-Play Debate (Overfishing, Fisheries Ecology - for GCSE or A-level)
Designed to take up around a single lesson of time, this debate is aimed at 14 to 16 year olds but could easily be used with older students too. It splits students into 3 groups with conflicting interests (scientist, politician or fisherman) from a fictional country and challenges them to form a plan of action regarding their country's use of dwindling fish stocks.

Split students into groups by role (the scientist and politician roles require perhaps the greatest flexibility of thought, so maybe differentiate your groups allowing for this) and give them 5 to 10 minutes with the source material to discuss in their groups how they feel about the issues and what they're going to be aiming for in their debate.

Students then assemble into teams of 3 (one of each role) and have 15 minutes to debate about how they will tackle the issues of overfishing outlined on the accompanying worksheet. They should complete the included worksheet and reach a decision as to how they will move Pandora onwards into the future in a position that will best please everybody. Each group then feeds back their decision and some of the reasoning behind it.

This exercise helps students appreciate some of the real world conflicts that exist between human needs and those of the natural world. In my experience it also serves to show how some of these issues may not be as clear-cut as students first assume.
Read more