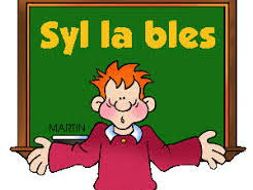 Syllables (KS1 and KS2)
A selection of resources for teaching syllables to KS1 and KS2.
Read more
About this resource
Info
Created: May 17, 2018
Other resources by this author
Fully customisable grading templates to be used in PE for KS1 and KS2.
LeeBakerLegion
A comprehensive range of resources for delivering PE and Games sessions to KS1 and KS2.
LeeBakerLegion
Resources to accompany a fitness and well-being package
LeeBakerLegion
Popular paid resources
10 fully resourced lessons to prepare students for the AQA English Language Paper 2, Section A exam: 'Writer's Viewpoints and Perspectives'. This r...
RojoResources
Children loved making pizzas at our Italian pizza class. Resources have been exported from an Activ-primary flip-chart. (Which also includes Italia...
jreadshaw
Focussing on the character of the Nurse from Romeo and Juliet, we look at how she is presented to us as an audience, how she acts as both a plot de...
Lead_Practitioner
Updated resources
This resource includes - a highly visual, interactive and fully editable PowerPoint lesson that explains how to decide whether to use the article/d...
Krazikas
This resource contains - Two highly visual and interactive 40 slide PowerPoint lessons on adding the suffixes -ing and -ed where no change is neede...
Krazikas
The resource includes a set of 15 exercises/ tasks to enable students to use full stops and capital letters accurately in sentence demarcation. The...
Krazikas