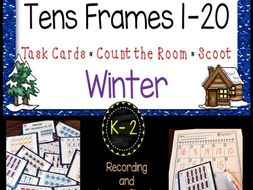 Tens Frames - Numbers to 20 - Winter Task Cards Math Center
Winter themed, math center for Kindergarten and 1st grade. These task cards: Tens-frames, Numbers to 20, actively engage the students in Counting and Cardinality and Number Operations in Base Ten standards. Students count "how many" objects on each card, and write the number on their recording sheet.

You'll get many uses out of these cards, including math centers, morning work activities, work for early finishers, home-school activity bags, SCOOT, count and write the room, and assessments.
Read more