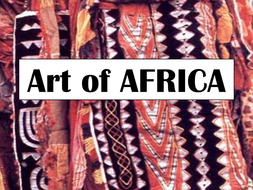 The Art of Africa
Powerpoint presentation for introducing students to African Art.
This resource is designed for US teachers. View UK version .
Other resources by this author
Resources for teaching students about the skills sought by employers
artyspice
Laminated bookmark sets for each Assessment Level/Grade. Each student takes the one that reflects his/her current status, attaches it to the sketch...
artyspice
Developing Art & Design specialist Vocabulary to support teaching and learning.
artyspice
Popular paid resources
Sock Monkey Soft Toy - Full lesson by lesson scheme of work & lesson powerpoint key stage 3 project The project transforms recycled socks into ...
merk90
Powerpoint showing several photos of Roman shields that I made leading into an activity where children design their own Roman shield based on certa...
dave_orritt
The Russia Football World cup is nearly here. Engage students with the FIFA Russia World Cup with these 5 colouring sheets. Students can decide whi...
StartEducation
Updated resources
Year 12 Mini Photography Projects This was very successful as students had very little time to waste and kept them focused to ensure the quality of...
khussain83
Currently working on Architecture with our year 9 so heres a tutorial I did with them and the final outcome was a success. It was challenging but t...
khussain83