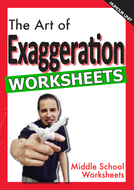 TES PICKS
The Art of Exaggeration
Using exaggeration or hyperbole can be one of easiest ways of getting a laugh from your audience.

These simple but challenging worksheets help the Middle School student identify humourous exaggeration techniques and develop some strategies to write their own comedy lines.

Great fun and yet another part of my humour series.

About 1 week's duration - answer key included - total of 24 pages in all.

About this resource
Info
Created: Oct 3, 2015
Updated: Feb 22, 2018
By adding a School licence it allows you to share this resource with colleagues at your school. Without it, this resource is licensed for use only by you. Read licence details
Other resources by this author
This engaging pack is an Integrated Case Study and with 50 pages of student activities comparing a traditional indigenous lifestyle with the studen...
malcomb
It is important for any student to understand the difference between the two types of humour - one that hurts and offends, compared to the type tha...
malcomb
Telling a joke to a group of people is a real art - and no-one ever teaches us how to do it! These worksheets explore some key aspects of joke tell...
malcomb
Popular paid resources
These 'Library Challenge' cards were made for my class library, but they could be used in a school library as well. The idea was just to get the ch...
sh2810
A Variety of Literacy Tasks based on a Pirate Theme. Word mat provides useful words and phrases to support writing tasks. Pirate Character Descript...
Alice K
A fully differentiated and resourced lesson that looks at a model answer for the AQA English Literature Paper 1 exam on the theme of secrecy in Dr ...
Lead_Practitioner
New resources
This engaging and informative lesson enables students to make detailed and precise interpretations of the character of Abel Magwitch in Great Expec...
TandLGuru
70 exciting Assessment for Learning activities - make each lesson fun and varied with over 100 different ideas for assessment activities and ways t...
lordturner
A few one-off lessons based on Harry Potter and SPAG! Includes activities on homophones, nouns, up-levelling work and prepositions.
ferrycaptain
Updated resources
Tale as Old as Time - Beauty and The Beast Dance lyrics mp3 song comprehension sheet Movie: Beauty and the Beast Released: 2017 Nominations: Radio ...
tacss
This is an interactive powerpoint with 50 questions suitable to use with EYFS or KS1 for World Book Day. Use as a starter, an assembly, a filler or...
blossomingminds
I have recently written this traditional tale unit for my literacy. We do Talk for writing in school so I adapted this tale for my unit. I have als...
Siobhannewt88