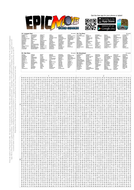 The Epic Movie Word Search
The Epic Movie Word Search contains more than 1,500 words, taken from some of the biggest Hollywood blockbusters! All the films are family friendly - they include favourites like Pirates of the Carribean, Toy Story and Jurassic Park. This puzzle prints onto four pages, which fit together to produce one complete puzzle, but each page is also a standalone worksheet with its own list of words to find. Some words actually span across two pages! The puzzle can be solved individually or split to promote teamwork. For the solution, email support@lightwoodgames.com.
Other resources by this author
This is a gigantic word search puzzle with a Christmas theme. It contains a whopping 1,500 hidden words! The puzzle is divided into 16 categories, ...
chrisnewman
Online system that assists teachers in the recording and reporting of APP assessments. A real time-saver! The demonstration video shows you how to ...
chrisnewman
Print sheets of free stickers to use in the classroom! This web site allows you to quickly generate sheets of printable reward stickers and assessm...
chrisnewman
Popular paid resources
This is a hugely popular revision tool for the Y6 Reading SATS test! Get ready for the 2018 KS2 reading assessments with this SATS Question Generat...
KS2History
This animated Power Point looks at anxiety issues facing young teenagers today and shares tips on how to cope. Mindfulness is one tool to cope with...
jlimb
This scheme takes the group step by step through the stages of how to write a story. It is adapted from the government initiative 'Improving Childr...
asadler79
Updated resources
This scheme of work was originally made for a SEN group but has since been differentiated for KS3 and taught at year 8 and year 9 to a range of abi...
charstars
Recipe for a Happy New Year: New Year 2018 Activity Updated especially for New Year 2018! Recipe for a Happy New Year (including full lesson Powerp...
KS2History
This is a great one-off literacy activity and a wonderful teamwork project to help your class work together to make a class poem. In this transitio...
KS2History