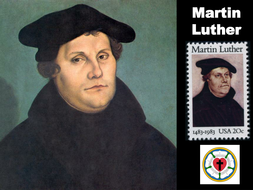 The Martin Luther Story and Quiz
The Martin Luther Story and Quiz

Plus activity sheets and video links.

Learning Objectives:

To be able to explain about who Martin Luther was.

This works brilliantly for expanding vocabulary and creative thinking skills.

17 questions within 35 slides; excellent pictures and sources to engage and motivate pupils study. Includes documentary video link.

Includes word search and design a stamp template.

Teacher Notes

This is an excellent activity/game/plenary to further improve student's work and knowledge.

I split the class into two teams (in one class I have girls against boys but in another class I have just divided the room down the middle) and when we play the game each side decides on a volunteer to come to the front, facing the class so they can't see the board (one team at a time).


Read more