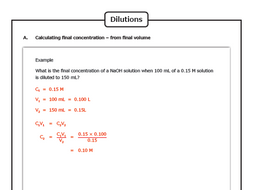 The Mole Concept: Dilutions of Chemical Solutions
Senior chemistry worksheet covering an extensive variety of questions around dilutions of chemical solutions and the formula C1V1 = C2V2.

Includes several worked examples and all answers.

A full preview of this resource is available at:
www.goodscienceworksheets.com/the-mole-concept-dilutions-of-chemical-solutions-worksheet.shtml

Also available as part of The Mole Concept Discount Bundle - Save 40% on individual prices.

https://www.tes.com/teaching-resource/the-mole-concept-discount-bundle-save-40-pc-11404122


.
About this resource
Info
Created: Jul 21, 2016
Updated: Feb 22, 2018
Get this resource as part of a bundle and save up to 23%
Other resources by this author
Activity for for intermediate high school chemistry. Ion shapes designed for cutting out and laminating. Shapes include name and symbol of each ion...
GoodScienceWorksheets
8-page worksheet for intermediate high school chemistry. Comprehensive worksheet containing a variety of questions, including extension and further...
GoodScienceWorksheets
Year 7 Science (Australian Curriculum) The Scientific Method [BUNDLE] Save 30% off individual prices Includes the following resources: * Unit Outli...
GoodScienceWorksheets
Popular paid resources
A fully-resourced lesson which guides students through the method involved in calculating the empirical formula and includes a concise, clear lesso...
GJHeducation
This resource is a set of 26 bespoke 6 mark questions to test students understanding of most of the required practicals in the 2015 AQA Science spe...
chalky1234567
Updated resources
Full Revision Powerpoint Lesson of AQA GCSE Chemistry Unit 1 Core Unit. Can be used to acheive an A*. Some slides taken from Mr Richards and most c...
hulahoop1000
AQA A-level chemistry unit 3.1.2 Amount of Substance - Lesson or Revision workbook with answers This workbook covers a whole unit of work combining...
Professor_Bunsen
New AQA A-Level Chemistry PowerPoint file - containing over 200 past exam questions and 250 slides! This is a well-organised, clear to read and use...
aewood1993