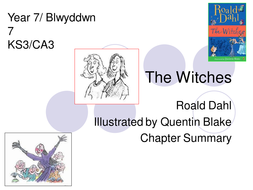 THE WITCHES CHAPTER SUMMARY
Summary of each chapter of roald dahl's the witches all chapters included
Read more
This resource is designed for UK teachers. View US version .
Other resources by this author
topics include: using the oven obesity eating disorders fruits healthy lifestyle
vikkiew87
Who wants to be a millionaire.. every slide hyperlinked to 50/50, etc used with year 9 based on hygiene and a balanced diet!
vikkiew87
revision aid for pupils on how an expectant mother can remain healthy throughout pregnancy.
vikkiew87
Popular paid resources
Resources to introduce dystopian/post-apocalyptic literature conventions to AS students, but also suitable for GCSE or KS3 students. Designed to le...
archev
These 'Library Challenge' cards were made for my class library, but they could be used in a school library as well. The idea was just to get the ch...
sh2810
A complete 12 week scheme of work that is fully resourced and differentiated. Contains powerpoint lessons, medium term plan, text extracts and samp...
stebbingk05
New resources
A picture tells a thousand words. The brain can remember images much easier than it can a large tract of text. Indeed when memory experts try and r...
IQResources
These are the stories that I mainly use with my class when doing the Y3 Myths and Legends topic. I know that some myths, especially child friendly ...
FenellaF
Basic quiz for chapter 1 of To Kill a Mockingbird
mediadave
Updated resources
English paper for level 1 or 2 - [Part 1 is grammar, part 2 is Reading comprehension and part 3 is Creative writing] Points can be adjusted by the ...
tacss
I have put together some material about cycling and the Tour de France. Chris Froome will shortly be attempting to win this race for the fifth time...
antonybatchelor
Planning and resources for Oliver's Vegetables. Including one week plan, comprehension questions, powerpoint of the book and sentence stems.
kennykoalabear