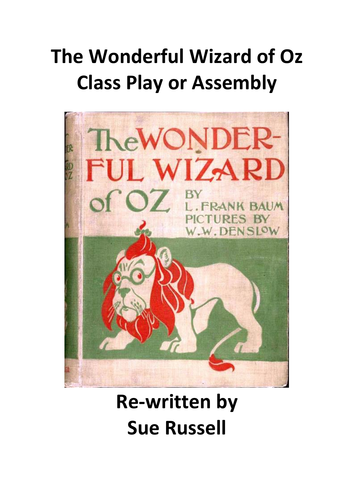 The Wonderful Wizard of Oz Play
This re-telling of the original story stays true to the plot - with just a small twist at the end. Oh, and anyone wishing to play the original 'delightfully wholesome' Dorothy may be in for a bit of a shock!
There is also a Christmas version of this class play or assembly - with, as you would expect, a few Xmas additions! This is available as a separate purchase.
Cast of 30 (with some doubling up)
Duration: Around 30 minutes not including the music suggestions.
Also available:
· The Wizard of Oz Guided Reading Scripts (10 of these, with 6 speakers each; around 3 minutes each – total reading time around 30 minutes
Sample Text:
Wicked Witch: Now. Where have that little gang of misfits got to? I don't suppose anyone would miss them!
Narrator: Whatever do you mean, ma'am? 'Miss them'?
Wicked Witch: Oh, haven't you heard? I'm about to wipe them off the face of Oz! Good riddance I say!
Narrator: (Gasping) You what? But you can't!
Wicked Witch: Oh really? Just watch me!
(Enter Dorothy, Toto, Scarecrow, Tin Woodman and Cowardly Lion)
Wicked Witch: Ah here they all are! Right on cue! Like lambs to the slaughter!
(Sound of wolves howling)
Wicked Witch: Bring on the wolves!
(Enter wolves – who are then all 'knocked out' by Tin Woodman)
(Whole cast cheers, as Tin Woodman waves his axe triumphantly)
(Exit wolves, rubbing their heads)
Wicked Witch: (To Tin Woodman) Hey! That's no way to treat my pets! I'll report you to the RSPCA!
(Sound of Crows 'cawing')
Wicked Witch: Bring on the crows!
(Enter crows. Scarecrow pulls a silly face and they all retreat in terror)
(Whole cast cheers, as Scarecrow struts up and down triumphantly)
Wicked Witch: Hey! What happened to my crows?
Narrator: (Pointing to Scarecrow) Well, he is a scarecrow, remember?
(Wicked Witch stamps her foot in disgust)
(Sound of bees buzzing)
Wicked Witch: Bring on the black bees!
(Enter bees. Each 'stings' Tin Woodman then 'drops down dead')
(Whole cast cheers as Tin Woodman struts around victoriously)
Wicked Witch: (Shrieking) Now what? What has happened to my black bees?
Narrator: Er, I think you'll find they just all died. Isn't that what bees do, once they have stung?
Wicked Witch: (Shaking fist) Drat! And double drat! Why didn't I think of that?
(Sound of marching feet)
Wicked Witch: Bring on my Winkie Soldiers!
(Enter Winkie Soldiers, marching purposefully towards 'the group')
(Lion lets out a huge roar and the soldiers all panic and run away in terror)
(Whole cast cheers as Cowardly Lion struts around triumphantly)
(Wicked Witch screams her dismay)
Wicked Witch: Right! That's it! You've asked for it this time!
Tes paid licenceHow can I reuse this?
Something went wrong, please try again later.
This resource hasn't been reviewed yet
To ensure quality for our reviews, only customers who have purchased this resource can review it
Report this resourceto let us know if it violates our terms and conditions.
Our customer service team will review your report and will be in touch.