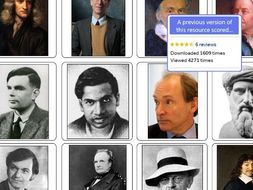 Top Mathematicians (History of Maths)
A match-up activity for students to learn about the history of maths. Students match up famous mathematicians names, pictures, dates, 'most famous for', 'something else' and 'about the person' cards. I suggest allow students to use laptops etc to support. Designed to instigate knowledge and awareness of some of the most famous mathematicians as well as learning methods for finding info online. My Year 12 groups really enjoyed it! Tried and tested in the classroom many times. This download includes a pdf file as well as the original powerpoint file for easy editing.
About this resource
Info
Created: Feb 12, 2018
Updated: Feb 14, 2018
Other resources by this author
**Updated February 2018. Video guide to this resource at https://www.youtube.com/watch?v=AZ7yDRU1vxg. Write reports easily with this template/writi...
grahamcolman
This task was created at the request of my Yr13 sixthformers, "we don't know any of this stuff, we don't know how to adult!" So, this activity cons...
grahamcolman
Here's seven triple-simultaneous-equations plus one quadruple-simultaneous-equation. A great extension task for more able students (whilst others c...
grahamcolman
Popular paid resources
A self-contained game to be played in pairs. Use to revise reading coordinates on a grid. Best played once coordinates have already been introduced...
Miss-Becky
Recommended by TES Panel. An investigation which allows the learners to find the rules for transformations plus some example questions. PLEASE REVI...
kmbheck
2018 VERSION NOW AVAILABLE HERE! (copy and paste link) https://www.tes.com/teaching-resource/new-2018-ks2-sats-revision-ultimate-3-in-1-maths-organ...
ambowers2
Updated resources
This activity requires students to rearrange various equations into the form y = mx + c and then deduce the gradient and the intercept. Like the lo...
Maths4Everyone
This activity gets students to translate a worded sentence into an algebraic expression. Like the look of this? Click --> https://tes.com/.../30...
Maths4Everyone
This download contains four sets of cards. Students choose a set and sort them into order by answering the questions. Then they try to do it faster...
Maths4Everyone