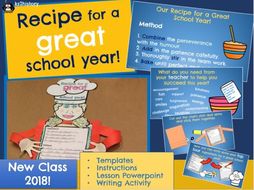 TES PICKS
Transition: Meet Your New Class
Popular resource! This Recipe for a Great School Year pack (including full lesson Powerpoint and all templates) makes a fun transition project and creates items for a classroom display to put up ready for the new school year.
The aim of this fin transition activity is to help your new class think about what will make the next school year a successful one.
Pupils will create a recipe for a great school year (the writing activity is included in the Powerpoint lesson provided) and then they can use the templates to turn it into a fabulous back to school craft, perfect for display!
This resource includes:
- A full lesson powerpoint including discussion points and a differentiated writing activity.
- A teacher instruction pack
- A template pack for making the back to school chef craft
This is an easy, fun activity perfect for the primary classrooms and can be easily adapted for different age groups.
Please note that due to terms of use in the images used, the Powerpoint file is not editable.
Please follow the steps below to access your files:
1. Return to this page.
2.Further down the page you'll see the files included within the Resource listed under the header 'Files Included'. You may need to click on the 'See all Resources' to view them all.
3. Use the individual download arrow icons found to the left of each of the file names for each separate file.
Read more