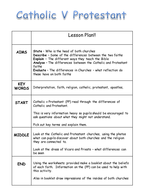 Tudors Lesson Plans
A series of basic lesson plans which can be adapted easily, powerpoints and worksheets which link are also uploaded
Read more
About this resource
Info
Created: Oct 24, 2011
Other resources by this author
A series of basic lesson plans which can be adapted easily, powerpoints and worksheets which link are also uploaded
Louised2401
A series of basic lesson plans which can be adapted easily, powerpoints and worksheets which link are also uploaded
Louised2401
Looking at social change, change in power and change in conflict 1066 - 1649
Louised2401
Popular paid resources
A lesson to introduce the 6 wives of Henry VIII, it includes various activities for students to engage in to explore the personalty of Henry VIII a...
leighbee23
Goes from the dinosaurs through key periods of history to the present day. Use MS Word to adapt it. I have added the Stone, Bronze, Iron and Middle...
MrCMaths
A full lesson on the invasion of the Spanish Armada in 1588, this lesson is for KS3 students and includes a group role play task for students and a...
leighbee23
Updated resources
This guide is aimed at both teachers and students to help them study, revise and be prepared for the AQA Elizabeth I 1568-1603 Historic Environmen...
PilgrimHistory
The decision to be a Protestant not surprisingly caused Elizabeth many problems from Catholics at home and abroad. The lesson therefore is in two ...
PilgrimHistory
This document contains Elizabeth and Crime & Punishment recap questions perfect for Gcse and Alevel revision.
joerigby2