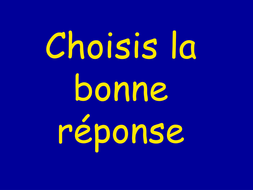 tv multiple choice quiz
<p>multiple choice quiz using tv flashcards</p>
About this resource
Info
Created: Jan 5, 2008
Updated: Aug 19, 2015
This resource is designed for US teachers. View UK version .
Other resources by this author
Powerpoint introducing different types of TV programmes which can be used for all MFL in KS3.
janeyburns
Power point and accompanying vocab handout introducing rendez-vous vocab
janeyburns
Lots of sentences using Bart and Lisa to describe brothers/sisters, students need to add numbers or frere/soeur to complete the sentences.
janeyburns
Popular paid resources
PowerPoint and accompanying workpack designed to encourage pupils to use a variety of complex structures in their spoken and written French. An ext...
maryjane1969
This is a lesson I produced for my Lower Sixth to introduce the subjunctive. There is a worksheet to accompany the presentation with a fairly compr...
maryjane1969
Print out the cards and laminate them. Pupils work in pairs or small groups and race against each other to form the perfect tense with the cards af...
maryjane1969
New resources
Quiz sur Noel : multiple choice exercise on the topic of Christmas
Zoe2007
Powerpoint slides and worksheets introducing and practising language to discuss helping marginalised people in society. There are links to five rel...
lucyday73
Quick printable to cut out, laminate and label: Rooms in a primary school Items in a classroom Raise the profile of French in your school by making...
naomifrench
Updated resources
I did this with year 11 to prepare for the speaking exam. We looked at how to form questions, how to recognise questions and then we looked at the ...
sapetrie
Lesson on revising the differences between the perfect and imperfect tenses with a focus on translation and writing skills.
AstridMonika
This is given to all our GCSE students at the start of the course - dates and order of topics can be changed of course. We use this as a self-asses...
AstridMonika