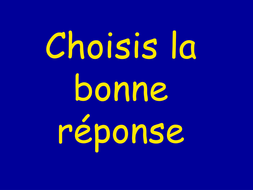 tv multiple choice quiz
<p>multiple choice quiz using tv flashcards</p>
Read more
This resource is designed for US teachers. View UK version .
Other resources by this author
Powerpoint introducing different types of TV programmes which can be used for all MFL in KS3.
janeyburns
Power point and accompanying vocab handout introducing rendez-vous vocab
janeyburns
Lots of sentences using Bart and Lisa to describe brothers/sisters, students need to add numbers or frere/soeur to complete the sentences.
janeyburns
Popular paid resources
PowerPoint and accompanying workpack designed to encourage pupils to use a variety of complex structures in their spoken and written French. An ext...
maryjane1969
This is a lesson I produced for my Lower Sixth to introduce the subjunctive. There is a worksheet to accompany the presentation with a fairly compr...
maryjane1969
Print out the cards and laminate them. Pupils work in pairs or small groups and race against each other to form the perfect tense with the cards af...
maryjane1969
New resources
Article and exercises on family topic - the nature of mother-daughter arguments. Practises conjugation/grammar section of AS exam. Pupils must fill...
leptir109
Full explanation of why accents are used in French including activities and a section for pupils to search in a dictionary and find accents they ca...
leptir109
Updated resources
Fauvism & artists, described and explained in short quotes + art images - for students, pupils and art teachers . These selected text-quotes on...
Matrozenhof
Surrealism & Surrealist artists - short described, explained in quotes + images - for students, pupils and art teachers . Surrealism was a char...
Matrozenhof
Contains a PowerPoint which covers how to describe a person's physical appearance & personality in basic French. It uses Disney as the theme th...
HollywoodR95