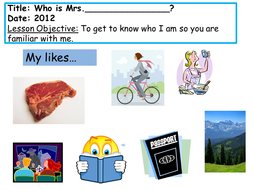 Who I am
I use this PowerPoint to introduce my students to who I am at the beginning of the year. I find it helpful...because after all; if you don't tell your students anything the danger is that they'll make it up! I usually include a few pictures of my family but didn't feel comfortable sharing that on the website. Aligned to Common Core State Standard: W.7.3
Other resources by this author
Used for an observation; adapted from a resource given to me by another teacher.
gradteacher
This PowerPoint was prepared to use before reading the novel. It has information about the author and some images to help students visualize the ti...
gradteacher
I have occasionally used this lesson at the end of a quarter to have students practice words and usage. This lesson prompts students to look words ...
gradteacher
Popular paid resources
Intended to be printed and laminated for a wall display on literary devices. Uses examples from a lot of modern films (lots of Harry Potter!) to ma...
ameliapeelia
30 pages of phonics activities perfect for practising alien words from phase 2-5 for the Phonics screening check.
littlemisstechnical
10 fully resourced lessons to prepare students for the AQA English Language Paper 2, Section A exam: 'Writer's Viewpoints and Perspectives'. This r...
RojoResources
New resources
This engaging and informative lesson enables students to make detailed and precise interpretations of the character of Abel Magwitch in Great Expec...
TandLGuru
Resources to facilitate teaching on Robert Burns. Includes a PowerPoint to introduce Burns and describe his life and work. Also includes a lesson p...
Jemmab100
Updated resources
Two sets of two texts with questions attached, designed to be used as practice for students studying Edexcel GCSE English Language. These have also...
Sazo123
A fully planned, 2-week unit based on the Talk 4 Writing approach for writing an adventure story - writing based on the Stormbreaker novel. The fin...
kieron147
Ideal learning resource to help students consolidate their understanding of the poems. Contains differentiated questions, interesting contextual ba...
Mrsmumbles