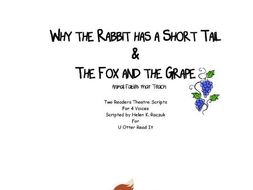 Why the Rabbit has a Short Tail and The Fox and the Grapes - 2 Aesop Fables for Readers Theatre
Two popular fables by Aesop scripted for 4 or more voices. Included in this 10 pages, you will find ideas for teaching, extending the concepts of the stories as well as ideas for writing.
Use the scripts for performance and to practice and develop oral and reading skills.
Read more