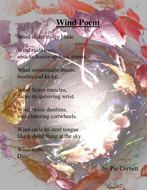 Wind Poems by Pie Corbett and Andrew Collett
Two poems about wind by Pie Corbett and Andrew Collett with wind picture background.
About this resource
Info
Created: May 17, 2007
Updated: Aug 19, 2015
Categories & Grades
Other resources by this author
KS2 posters revising key points of magnets, gravity, air resistance, forces & friction. (last 2 pages refer to interactive magnetism and friction a...
ooee4
Persuasive writing about rights and wrongs of children playing computer games. I would really appreciate it if you could please leave me some feedb...
ooee4
The Magic Box poem with pictures relevant to poem. There is no lesson that goes with this poem
ooee4
Popular paid resources
Intended to be printed and laminated for a wall display on literary devices. Uses examples from a lot of modern films (lots of Harry Potter!) to ma...
ameliapeelia
30 pages of phonics activities perfect for practising alien words from phase 2-5 for the Phonics screening check.
littlemisstechnical
10 fully resourced lessons to prepare students for the AQA English Language Paper 2, Section A exam: 'Writer's Viewpoints and Perspectives'. This r...
RojoResources
New resources
Resources to facilitate teaching on Robert Burns. Includes a PowerPoint to introduce Burns and describe his life and work. Also includes a lesson p...
Jemmab100
Cooperative learning is an educational approach which aims to organize classroom activities into academic and social learning experiences. There is...
lordturner
Updated resources
NEW - A WRITING ASSESSMENT based on writing an INFORMAL LETTER from Matilda to a relative or close friend. Includes a suggested STRUCTURE of an INF...
btmmadstuff
Children will be motivated to sharpen up their own spelling with these fun quizzes. They involve differentiating between words that sound the same ...
katewilliams_poetry
In the word document there is the following worksheets: Character descriptions for Mr and Mrs Grinling and the Seagulls Instruction writing for mak...
sarahwhitneystead