Word Problem Cards - Fractions and Percentages
Year 6 mixed level word problem cards with pictures related to fractions and percentages.
Cut out and laminate.
Cards are differentiated 4 ways, blue being mostly L3 questions and yellow being L5.
Can also be used for lower KS3 classes.
Last updated Feb 12, 2015, created Mar 15, 2011
Error occurred while adding this resource to your favourites list. Please try again later.
Ages
Categories
I used this previously while doing my training and it worked really well, particularly for differentiating. Now a year later and I've come back to it. Great resource, thank you.

Has saved me hours! Thank you SO much!

Great - thank you for sharing!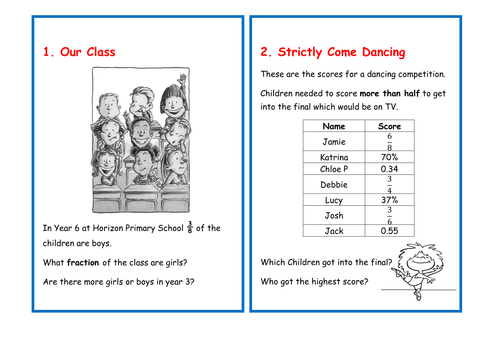 Downloads

24391

Views

58552

Created

Mar 15, 2011

Updated

Feb 12, 2015