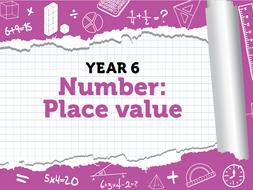 TES PICKS
Year 6 - Place Value - Week 1 - Numbers to 10,000,000 & Compare and Order
This is pack 1 of 2 on Year 6 place value and covers the small steps Numbers to 10,000,000 and Compare and Order any Number.  The resources aim to help children gain a deeper understanding of the concepts covered in the first week.  Numbers are represented in a variety of ways and lend themselves well for use alongside concrete manipulatives such as place value counters and Base 10.

The resources include pictorial and abstract representations as well as reasoning and problem solving activities and more open ended problems to support and extend your whole class.

I hope you find them useful.
Read more